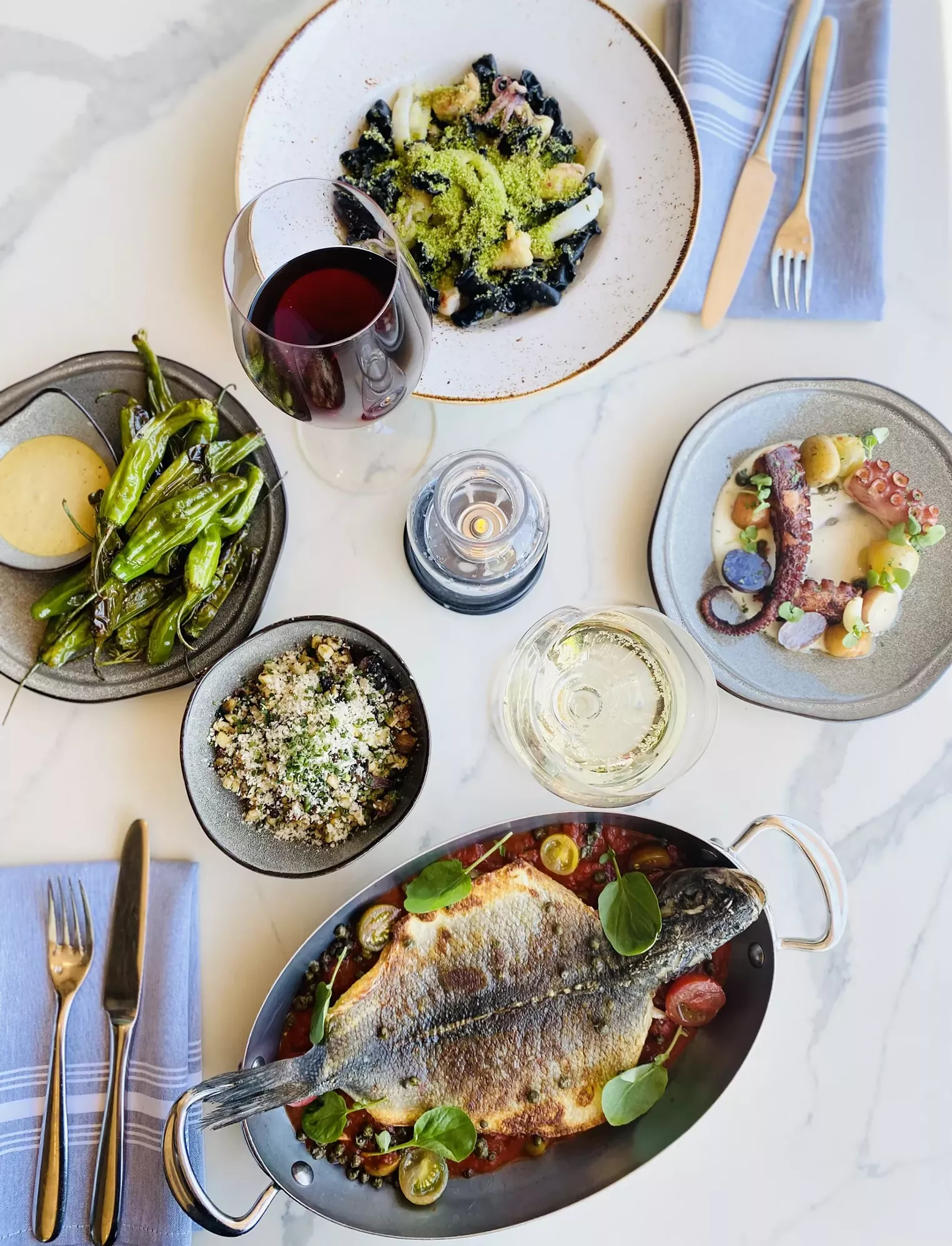 Two VIP Phoenix Dining Experiences Put You In The Kitchen With Chef Scott Conant
[ad_1]
Chef Scott Conant celebrates his new cookbook, "Peace, Love, & Pasta" with some special events at his two Valley restaurants, Italian Mora on North Seventh Street and the American Restaurant in Scottsdale. Later this month, he's offering a VIP dining experience at both restaurants, and he's revitalized the happy hour menu at both locations based on the book and his recent travels.
Conant is hosting its first VIP event from 5:30 p.m. to 7:30 p.m. on Tuesday, October 19 at the Americano Restaurant at 17797 North Scottsdale Road. One ticket includes an aperitif and canapes to start the festivities, followed by a four-course dinner with choice wines. The family-style menu will include favorites from Conant's book, which are the same dishes he cooks for his own family.
Each guest will receive an autographed copy of the "Peace, Love and Pasta" cookbook, as well as the opportunity to take photos with the chef.
Reservations are required for the event. Tickets cost $ 175 per person (tax and tip included) and $ 75 for children 12 and under. One must reserve.
On October 27, Conant is offering a similar VIP experience at its Italian restaurant Mora at 5651 North Seventh Street. There will be an appetizer and canapes to start, with a four-course dinner of book favorites, and a selection of wines, to follow. Tickets cost $ 155 per person and $ 75 for children under 12. Guests will receive an autographed copy of the cookbook and a photo op with Conant.
In addition to his VIP events, Conant is launching the very first happy hour at Mora Italian, as well as an expanded happy hour menu inspired by his trips to the Americano restaurant. Happy hour is available at Mora Italian and Americano Restaurant from 4 p.m. to 6 p.m. Tuesday through Sunday.
The Giro d'Mora (or "Tour de Mora") is a five-course meal with an ever-changing range of crowd favorites at the modern osteria, like seared octopus, homemade pasta and dessert for the whole table. At $ 68 per person, the friends-style menu is the perfect way to reconnect with friends and family around a tasteful common dining experience, says Conant.
For its happy hour launch, Mora Italian offers a Roman style pizza at $ 3 a slice; Ascolane olives with stuffed fennel sausage and fried Castelvetrano olives for $ 6; Zucchini Fritti with Calabrian Pepper, Mint Aioli and Marinated Pepper for $ 6; and Calabrian Chili Wings with Glazed Grilled Bone Wings, Chives and Lime for $ 5.

Happy hour drinks at Mora Italian include Drunken Wifey made with Milagro tequila, homemade limoncello, elderflower, mesquite honey, lemon and thyme for $ 12; Blood Orange Spritz with selected appetizer, frico frizante, blood orange, lime and mesquite honey for $ 10.

Americano Restaurant, Conant's Italian-inspired steakhouse, a happy hour staple, now has a refreshed menu with a brand new raw bar inspired by his trips to Tokyo. Not typical happy hour programming, sophisticated menu items include Kumai oysters with a cutie of stone fruit for $ 2 each; Alaskan snow crab with mustard, lemon and caviar for $ 12; Salmon belly tartare with matured Meyer lemon and crispy shallots for $ 9; and Scallop Crudo with Calabrian Pepper and Lime for $ 12.
Another new addition to the Americano restaurant's list is the wood-fired spiedini (skewers) program that includes charred octopus with a marinated asparagus salsa for $ 15; Beef tenderloin with chimichurri and crispy onion for $ 16; Crispy pork belly with orange mostarda for $ 15; and shrimp coated in Guanciale with aioli for $ 16.
[ad_2]