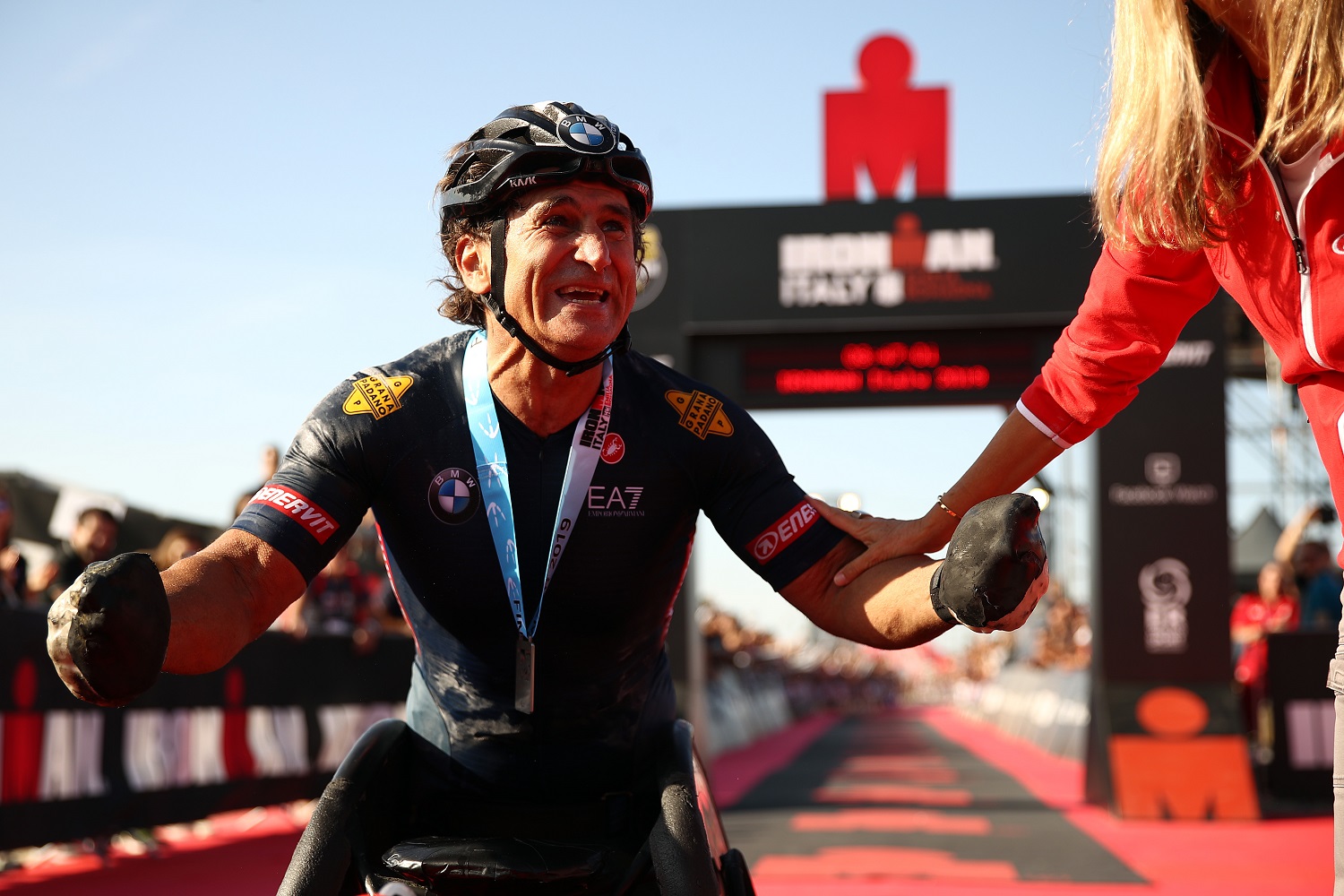 Alex Zanardi's return to competition as a double amputee after a 2001 accident remains one of motor racing's most amazing stories
The Formula 1 incident at the Italian Grand Prix in which Max Verstappen collided with Lewis Hamilton's Mercedes moments after the British driver made a pit stop has parallels with the misfortune of Alex Zanardi in 2001.
Verstappen's F1 car literally hit Hamilton's car, and one of the tires grazed its rival's head, although a titanium crash bar absorbed most of the blow. Yet the incident almost became as tragic as a wreckage almost 20 years ago to the day which also began with the exit of a leading driver from the pits.
This unfortunate accident at the 2001 American Memorial in Klettwitz, Germany, forced medics to amputate the legs of CART competitor Zanardi. The crash happened after he came to a stop on lap 142 of a 154-lap race. Trying to accelerate to get back onto the course, it lost traction and spun in the direction of oncoming traffic.
Patrick Carpentier avoided hitting the Italian, but Alex Tagliani followed closely and could not react in time. Tagliani crashed into Zanardi's car, cutting off his nose and crushing the lower shell. Paramedics rushed to the scene, where Zanardi was bleeding profusely from broken bones in both legs. Surgeons at a nearby hospital determined they needed to perform a double amputation.
Zanardi, who was 35 at the time of the crash, took an aggressive approach to rehabilitation, deciding he wouldn't let physical setback dictate what he could and couldn't do for the rest of his life. The progress in less than two years has been astounding and inspiring.
In June 2003, he completed 40 practice laps on the same EuroSpeedway Lausitz track to familiarize himself with the use of manual controls. On race day, he returned for another pre-race ride, this time symbolically completing the 13 laps of the two-mile route he was unable to complete in 2001. According to Cart.com, he completed some laps at over 190 mph, making for an incredible story. If he had done it in qualifying a day earlier, he would have placed fifth on the starting grid.
"It was flat. Wide-open. I can't say pedal to metal, because I didn't have a pedal. I just had a little button, but it was all I had in the car.

Alex Zanardi
However, Zanardi was not satisfied with this feat. After winning 15 of the 52 CART races from 1996 to 1998 before returning to Formula 1 in 1999, he wanted to taste victory again, whatever the form. He started competing in 2003 in the European Touring Car Championship, which turned into the World Touring Car Championship, and Zanardi triumphed four times from 2005 to 2009 when he announced his retirement.
Zanardi made a few competitive appearances over the following years, but found new challenges to compete in tough cycling at the Paralympics, held in conjunction with the Olympics every four years. He won two gold medals in London in 2012, followed by two more in Rio de Janeiro in 2016.
Unfortunately, this second career led to another near-fatal racing accident. While competing in a road cycling race in Italy in June 2020, Zanardi lost control going down a hill and veered into an oncoming truck. Multiple head injuries left him in a medically induced coma and hospitalized for months.
In July 2021, Daniela Zanardi said her husband was continuing his recovery in a rehabilitation center. According to BMW Motorsport, Zanardi cannot speak but is otherwise able to communicate while undergoing physical therapy and working to regain mental acuity.
"It's a very long trip, and at the moment no predictions are made on when he will be able to return home," said Daniela Zanardi. "We are putting all of our energy into Alex's recovery.
It's a recovery that will naturally take many months, but Zanardi has already shown determination and persistence beyond what even other elite athletes could muster.
Like Sportscasting on Facebook. Follow us on twitter @ sportscasting19.
RELATED: Michael Waltrip Didn't Realize How Serious His Bristol NASCAR Crash Was Until Rescuers Told Him to Watch His Feet